ice play
is everywhere on the web as we attempt to stay cool. Last weeks
It's Playtime
link party was our most popular to-date, and it seemed to me, ice play/art was a favorite topic for bloggers to share. This week, I've chosen some of my favorite ice projects from last weeks play date. Enjoy....and stay cool!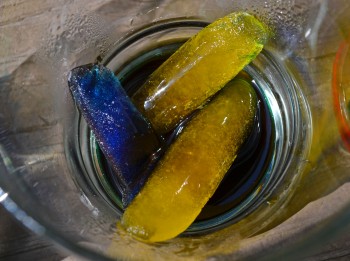 I loved this
Artsy Ice Experiment
from
Creative Connections for Kids
. They blended science with art (color mixing) and had nature (the summer sun!) do all the dirty work for them. A great summer experiment!
Pre-school Play
shared with us that sometimes planned projects take on a life of their own when a preschooler becomes involved. A typical ice cube painting project quickly turned to
Ice Cube (Body) Painting
when this little one decided to explore her medium. I wish I could paint my body and people think it's cute!
A
Salt and Ice Extravaganza
came from
Praises of a Wife and Mommy
. Salt is great for creating crevices in ice chunks. Add some color and you have an artistic chemical reaction!
The
Chocolate Muffin Tree
took salt and ice exploration one step further and created some lovely,
Colorful Ice Sculptures
. I love the giant blocks of ice the little cubes and the big cubes created once they melted together.
Honorable Mentions:
The Iowa Farmer's Wife
:
Ice Play
(perfect for toddlers!)
If you were featured this week, don't forget to grab your special "featured button."